Greenkeeping
Welcome to the Green Keeping message board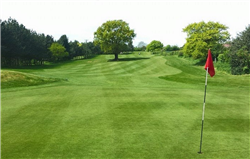 Green Keepers Newsletter
The Course maintenance day went well despite unfortunately not getting enough volunteers to make the idea of a members tidy up day a reality.
We hired in the machinery required and with a long day put in by the greenkeepers all 18 greens were verti-drained, hollow tined and top dressed in one day. Mother nature also played ball on this occasion.
Hollow coring is vital to relieve compaction, allow air in to the soil profile and to remove thatch. Verti-draining is vital for relieving deeper down compaction. Top dressing creates a smoother firmer surface and also aids thatch control by dilution and encouraging microbial activity. All vital for healthy greens. Unhealthy greens do not play well.
A dry spring continues to stress all areas of the course. Unfortunately, the recovery seen on the fairways from last year's drought is taking a step backwards and the need to irrigate the greens with cold bore hole water combined with chilly nights is seeing greens with minimal growth.
To combat the conditions we have started our wetting agent programme early mixed with turf conditioners and applied potassium nitrate to try to force some growth.
Wear around some greens through footfall is becoming a real issue. In particular the 1st and 6th. We are planning on creating a walkway behind the mound on the 1st green for trolley and buggy users.
GREENKEEPERS TIPS OF THE WEEK
Lawns are now becoming stressed by dry weather. Raise your mower a notch and resist the urge to cut your lawn short. The shorter you cut grass the more stressed it becomes and les drought tolerant. This is why golf greens are such high maintenance.
If you have the facility aeration will allow any rain to penetrate. If you use a lawn care company ask about wetting agent applications